Mitchell Family Racing
Hello, and welcome to our website! We are Mitchell Family Racing. Ian & Angelique were third generation quarter midget racers, and Ivy Smith has been friends with Angelique and Ian for many years. Ivy's mom and I were married, so she is not just part of the team, she is family! All of the kids are too old for Quarter Midgets, but we are always trying to find a racing opportunity for Angelique.

I am your host, John Mitchell. You will find current information on our race team here, as well as pictures from the past. Pictures, Profiles of Drivers, Profiles of the team, and more importantly, our SPONSORS and our FRIENDS. IF you want Quarter Midget History, including our own past, click on HISTORY. Currently, I am an official for USAC on the west coast, helping with their Quarter Midget and Focus Midget programs.
Additionally, you will find links to other race teams around the country, other historical sights, racing organizations, and tracks.
~Latest News~
July 25, 2011 - This Saturday, see the USAC .25 (Quarter) Midgets, Focus Midgets, and West Coast 360 WINGLESS Sprints at the Santa Maria Speedway! Click the flier for more info! E-Mail me if you plan on attending with a Quarter Midget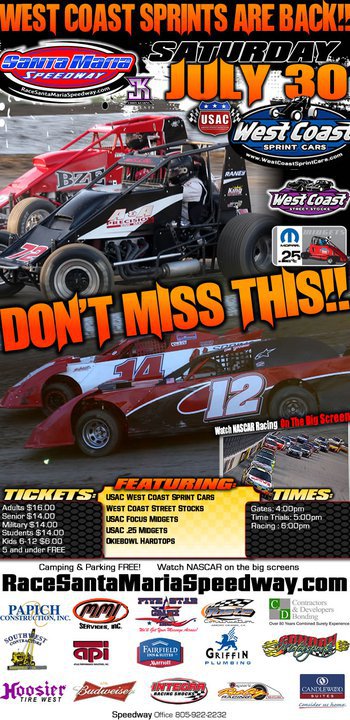 July 19, 2011 - YIKES - has it really been three years since my computer crashed and last updated the site? Well, many things have changed. Look for many updates in the coming weeks!
As I updated on my original introduction, all of the kids finished quarter midget racing a few years ago. Ian was the last, finishing up at the end of 2008. Ian and Ivy are pretty much done with racing to my knowledge, although Ian has helped at few USAC races over the past two years, including Turkey Night last year. Angelique would LOVE to get back into a race car, but unless an opportunity presents itself, its a bit out of my current budget.
A few years back, I decided that for Quarter Midgets to survive, a full time professional racing organization had to take the lead. As such, I was one of a handful of people that helped USAC (United States Auto Club) move into the Quarter Midget arena. I won't get into all the background politics, but suffice to say, we all tried to make it a joint venture with QMA, but QMA wanted no part of it. I started off by writing the initial draft of the USAC quarter midget rulebook. Since then, I have helped at a few USAC .25 midget events, but have done more work with the West Coast Focus Midgets, as well as an occasional helping hand with USAC Sprints and Midgets.
I will try to be more proactive in my updating of the site, I will post new USAC pictures at some point from west coast races, and have already updated a schedule of where I will be working for the remainder of this year.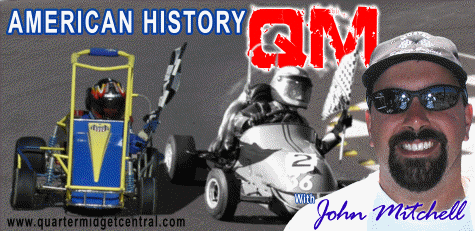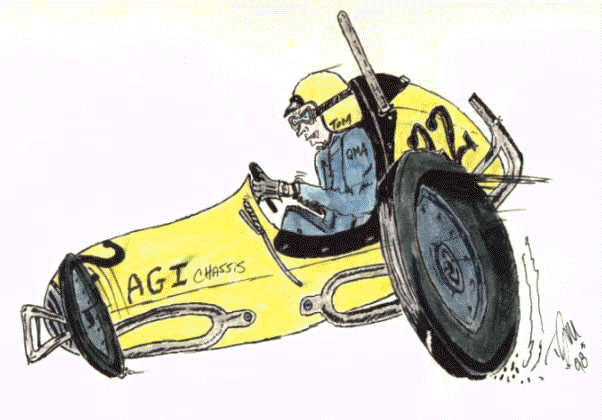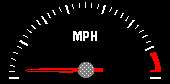 UPDATED 07/21/2011

Copyright 2006 - 2011 , John Peter Mitchell - ALL RIGHTS RESERVED
Created by mitchracin web designs